Today we visited Teotitlán del Valle and learned about candle making and weaving. I also was honored to try my hand at these arts in the tutelage of master artisans.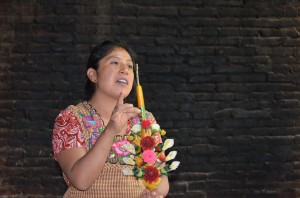 I made a bird form in wax to be used in candle decorations. Kneeling next to our host as she did with her grandmother learning her skills was inspiring. While this was a thrill for me, for her it is her family's livelihood. At the young age of nine her grandmother passed away and she fulfilled family obligations for candle orders. Since then she has continued to practice the art she loves.
As she shared her art and life, we sat transfixed in a three-sided brick shed adorned with a beautiful rough-hewn ceiling. She spoke to us and worked from her knees in the center of the shed before a large ceramic bowl filled with melted beeswax. A second tub contained cold water. The ancient charm of the setting and her grace made for a timeless environment. Bees, attracted by the wax, danced around her. Completed candles hung from the ceiling and the waft of beeswax entranced us all.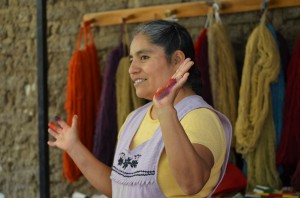 From one set of weavers our group learned of the process involved in their art. The natural dyes that create a multitude of permanent colors derived from sources such as aster flowers for yellow, indigo, cochineal insects for red (with lime to attain an orange). How each dye is used with different wools to achieve more colors. For example a brown natural wool dyed with indigo to achieve black. The work involved is impressive,  the colors attained are breathtaking as are the resulting tapetes.
The second set of weavers we visited included an opportunity to work the loom myself. I definitely slowed the process down but someone out there will own a rug that some of my soul is now a part of — hopefully I didn't bring the value down too much.
Our visits on this day which also included a chocolate maker were part of a tour featuring women that are part of a micro-finance program. Fundación En Vía provides interest free loans and business training to groups of women looking to start or grow a business. The foundation empowers these women and their pueblos to be more self-sustaining. The strength of these women and the pride they exhibit was inspiring. Their families showed great pride in their accomplishments and it was simply an honor to visit with them.