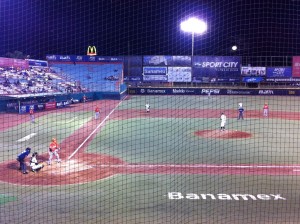 Some of our team visiting Oaxaca enjoyed an evening of baseball. The Guerreros of Oaxaca hosted Vaqueros de la Laguna in a matchup at Vasconcelos Stadium. On a beautiful night that featured a full moon rising in the a outfield we cheered on the home team. Alas, our cheers and those of the crowd could not overcome Laguna's batting. An early grand slam was not to be matched. (While it was for the wrong team, it was neat to witness a grand slam.)
Even the spirit provided by other powers could not change the outcome. The Guerreritas, the team's cheerleaders, tried their best to spark a comeback or at least distract the opposing players with their dancing. They also got the crowd involved by hosting a three-legged race between innings.
There was excitement for the home fans sitting a few rows in front of us. A wave of apparent surprise crested down the row of seats. They had indeed seen something we didn't. Not on the diamond but under their legs.
A cat had appeared from somewhere and was running down their line of seats. I can imagine their surprise from Disney experiences to have something running and rubbing against your legs especially when not expected.
Don't jump to conclusions and picture a black cat in addition to a full moon sealing the Guerreros' fate. This feline fan was a dingy white fellow obviously in need of a home better than a baseball stadium provides.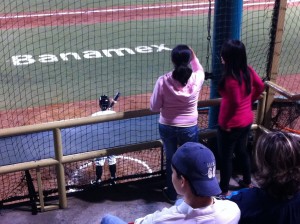 All in all it was a beautiful night for baseball and people watching. It was very cute to see, as everywhere, young ladies giddy to see their favorite player just feet away in the batter's box. So close yet the bravery to call him to turn for a picture eluded them. Just as pitching eluded the Guerreros but at least they played the game. There is always tomorrow.