A new "beta" has been hatched. Acrobat.com is Adobe's new collaborative platform which integrates Buzzword for collaborative authorship, ConnectNow for online meetings and presentations, PDF creation, Acrobat.com offline AIR application and apparently more. I wrote about my pleasant experience with Buzzword and noted the parent company's acquisition by Adobe, so it is interesting now to see the resulting offering.
I'd like to tell you of my first experience with the new Acrobat.com beta, unfortunately it will have to wait. The world must be knocking at the door, they are "service unavailable."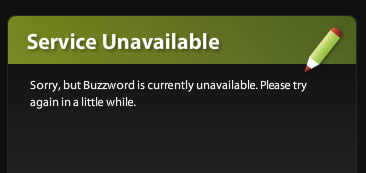 Guess I'll have to try again in a little while.